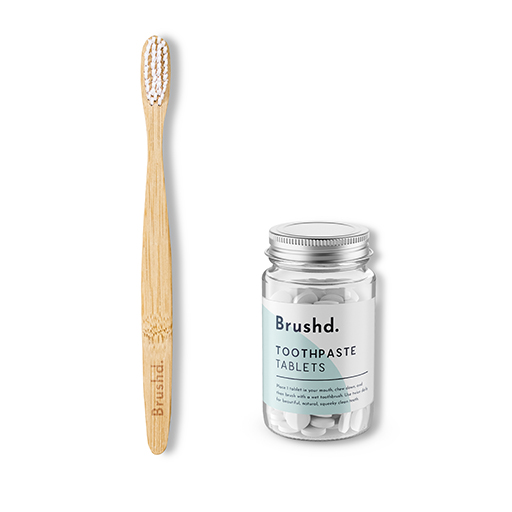 Toothpaste Tablets and Toothbrush

✓ One Month Supply Toothpaste Tablets

✓ One Bamboo Toothbrush

✓ Save 10% - Normally £8.48

Liquid error: product form must be given a product
Liquid error: product form must be given a product
Toothpaste Tablets

Brushd. Dental Toothpaste Tablets are an alternative to the toothpaste we are all used to. They have been specially formulated to make sure that no compromise is made on your oral health. They will leave your teeth clean and feeling minty fresh. They're a great way to travel too without carrying a whole toothpaste tube! We pack our tablets in glass jars - an easy way to help reduce our plastic footprint! No Paste. No Waste.

✓ 62 Tablets - Fresh Peppermint
✓ Plastic free packaging
Bamboo Toothbrush

Our Eco-friendly toothbrushes are made from bamboo - a strong, sustainable material with natural antibacterial properties. When its time to replace your brush, simply break off the bristles and pop the handle into your compost or food waste collection bin.
We recommend replacement every 2 months, we will therefore ship 2 toothbrushes every 4 months.

Don't forget - for every 1 brush purchased, 1 will be gifted to someone in need on your behalf.
✓ Sustainable
✓ Antimicrobial
✓ Eco-friendly